Legally and Lawfully Yours by Anita Stansfield
Book Description:
Following the revelation of her fiancé's philandering ways, high-powered New York attorney Shannon Turney's wedding is off. At a time like this, the last thing she can handle is family drama. But when she learns how far her brother and sister-in-law's lives have spiraled out of control, the only thought in her mind is the safety of her young niece and nephew. After Shannon is granted custody, she and the children are eager to run long and far from their problems. The end of the road is Sugar City, a place as delightful as its name implies. In the tiny town, Shannon gets much more of a change than she bargained for. Welcomed with open arms by the townspeople, including the handsome local veterinarian, Shannon and the children slowly begin to heal. But when their idyllic existence is threatened by the return of the children's mother, Shannon has no choice but to return to the courtroom she left behind. She has one last legal battle to fight, and the outcome may mean losing everything she loves . . .
Tarah's Review:
The book started out great, and I got drawn in right away to what was going to happen with Shannon and the kids. However, once they get settled (and by settled I mean they drove for three days straight, and then end up in the same state they left, New York. Seriously? New York is not that big, and if you were trying to get away from people, wouldn't you want to go as far away as possible?) the book changes in its tone, and instead of being in the story and experiencing it, you just get told stuff, and I'll admit I got bored, until right at the end when the tone changed again to like it was at the first.
Phillip is great (I admit I have a thing for Veterinarians). He is super understanding of Shannon's past and the situation at present. Also, he's a nerd, and I'll admit I have a thing for nerds too :) However, sometimes he seemed too great, if you know what I mean. I loved his mom though, she was fun.
Legally and Lawfully Yours
is a clean read that handles some disturbing situations in a G rated manner.
Andrea's Review:
My review copy arrived just before I left on vacation. I took it with me sure that I'd have plenty of time to read it. Totally out of character for me, I didn't do a lot of reading while I was gone (which in some ways is sad, but others it's better since I was more actively engaged and communicating with my family). :)
My take on what I've read so far is similar to Tarah's review. I was really held up by the driving with two young kids for three days and not having left the state. Most kids aren't very content in cars for long amounts of time, and not knowing where she was made me question her competency. Yes, she's stressed, and just trying to go where it feels right, but it bugged me. Of course, still being in New York seems to be important for her job as things progress, so I get that.
It's been a clean read so far. I think if I'd been pulled in more, I probably would have finished the book already. As it is, I think it's interesting, but not the type of book I devour.
Rorie's Review:
I'm a bit delayed posting this review, but better late than never, right?
The idea of the book intrigued me, but sadly, the story kind of fell flat. It started out really well, but then the middle really dragged on. I felt almost like it was too happy, too perfect, too easy of a relationship between the main characters. I like stories where the main characters have some conflict between the two of them that they have to work through.
Things got a bit better near the end of the book, but it still wasn't quite enough to make the book an excellent read. As it is, it's a decent story, but lacks depth.
Blog Tour Schedule:
Tour Giveaway:
a Rafflecopter giveaway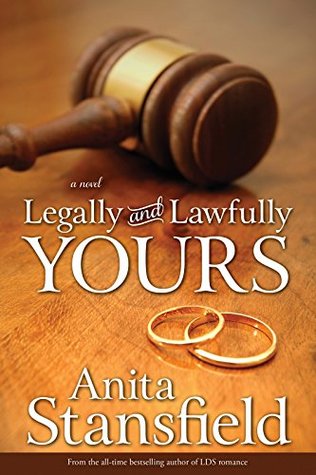 Title:
Legally and Lawfully Yours
Author: Anita Stansfield
Publisher: Covenant Communications Inc.
Published: August 2015
ASIN: B012PON1HM
Source: We received copies from the publisher in exchange for a review.