Reviews * Giveaway
Defiance by A.L. Sowards
Book Description:
Eight years after immigrating to the United States, German-born Lukas Ley embodies the American dream: successful athlete, gorgeous girlfriend, loving family. But beneath the surface, eighteen-year-old Lukas is driven by ambition, resolved to avenge the murder of his father at the hands of the Nazi regime. Unfortunately, a failed physical throws his plans for flight school off course. Unlike his war-hero older brother, Lukas's purpose is unclear. He can't fly, and in the eyes of the military, he's good for only one thing—the front lines.

From the foxholes of war-ravaged Luxembourg to the devastation of an enormous German offensive, Lukas's journey is fraught with peril. But when he's taken as a prisoner of war, he realizes life is about to get much worse. In the enemy camp, Lukas is viewed as a German fighting for the wrong side. Ripped from the innocence of an idealistic youth, he becomes a man beaten by the horrors of war. Now his only hope of survival is to hold tightly to his faith in God and his love of family and home. But even if he manages to make it out alive, can he ever be whole again?
Andrea's Review:
A.L. Sowards' new book
Defiance
is a must read for WWII fiction fans! It is an excellent story that I devoured. And, like Sowards other historical fiction novels, she is able to engage readers and really make them feel the horrors of war without bogging them down with graphic, gory, details.
Sowards creates such deep characters. You can't help but become attached to them. I really liked Lukas, and I ached for him and his fellow soldiers. The friendships Lukas made were bright spots in a dark time. And the loss of many of those friends was deeply felt.
I loved those that reached out when someone was about to give up-those that helped others carry on.
There was a great message about forgiveness (both of others and yourself). This also felt perfect to read near Easter with the significance in Lukas' life of the atonement and Christ being able to make him whole.
It has been over two years since I read the story about Lukas' older brother, Bastian. While both books are stand-alone, I definitely want to go back and re-read
The Rules in Rome
to refresh my memory about all that Bastian went through. Although his part in
Defiance
is pretty small, he is a great character that really helps Lukas both before, during, and after the war.
Defiance
is well written, and I highly recommend it, along with Sowards' other books.
Tarah's Review:
My husband looked at the cover of this novel, and then looked at me, and then looked at the cover and said, "This isn't your typical read." It's true...it's not, but boy did I stay up way too late finishing it. I'll even admit I peeked at the end before going back and devouring the rest of it.(I know that makes a lot of people cringe, but I can enjoy my books better when I know what's coming).
This story reminded me a lot of
Unbroken
, but probably only because they are both POW's and got singled out by a guard, and it's a war story. Although this one isn't as graphic. Same scenarios, just cleaner.
I appreciated the friendships, I felt the heart-break of the actions of these men. I cried when Lukas realizes who he's become, and that he feels he can't or doesn't want to go back to his family.
I can't wait to recommend this book to different people than I normally recommend books to, and also to the regular people. I will definitely be looking at this author and see what else she has written.
Rorie's Review:
Wow. So much description in this book. Description so rich, you almost feel like you're there with them. Not necessarily a pleasant thing, since most of the book centers around the horrors of war and surviving as a P.O.W.

Lukas is such a strong character. I liked him from the start and my respect for him only grew as his time at war went on. Even though his experiences in the war changed him, he still was a good person...even if he didn't think so for a while. 

I loved reading about how Lukas formed close friendships with various men in his squad. The experiences they went through forged a close bond where they all had each other's back, and would even put themselves in harm's way to help protect each other. 

This book is one I will recommend to anyone who is interested in WWII, or even if they're not, this book is just that good. Heartbreaking, hard to read at times, but full of hope too.
Tour Giveaway:
a Rafflecopter giveaway
Tour Schedule:
*
April 21st
:
http://melsshelves.blogspot.com/
,
http://www.wishfulendings.com/
About the Author:
A.L. Sowards has always been fascinated by the 1940s, but she's grateful she didn't live back then. She doesn't think she could have written a novel on a typewriter, and no one would be able to read her handwriting if she wrote her books out longhand. She does, however, think they had the right idea when they rationed nylon and women went barelegged.
Sowards grew up in Moses Lake, Washington. She graduated from BYU and ended up staying in Utah, where she enjoys spending time with her husband and children or with her laptop. She does not own a typewriter. She does own several pairs of nylons.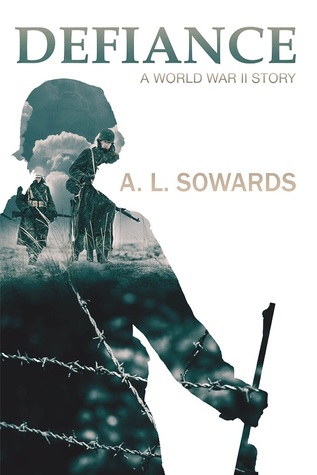 Title:
Defiance
Author: A.L. Sowards
Publisher: Covenant Communications, Inc.
Published: April 2017
ISBN: 152440215X
Source: We received copies from the publisher in exchange for an honest review.
Purchase:
Amazon
|
Kindle
|
Deseret Book