Reviews * Giveaway
Love, Jane by Ranee S. Clark
Book Description:

Jane Reeves and Sean O'Callaghan seem to be a match made in heaven—but the timing is all wrong. Jane has her heart set on serving a mission, and she can't delay telling Sean the news any longer: not only has she quietly submitted her mission papers, but she's also leaving in a month ... for Alaska. Shocked and devastated, Sean struggles to come to terms with Jane's decision. Unable to deny the depth of their feelings for one another, Sean makes a promise to wait for her.

Life unfolds for both Jane and Sean, with communications limited to weekly e-mails. But with just a few months left in Jane's mission, Sean's messages stop. When she receives the dreaded "Dear Jane" breakup along with the news that she has been replaced by Sean's former flame, Jane knows the future she envisioned now belongs to another woman. But upon her return home, Jane quickly realizes some things are worth fighting for—perhaps, most of all, a shot at true love.
Andrea's Review:

I read the description for Love, Jane a month or so before I got it, and didn't re-read it when it arrived. I prefer that over having a fresh blurb in my mind (they can give too much away). Having done that, the first section of this book was FULL of angst! I just kept thinking that Sean was going to be so hurt when Jane finally got the guts to tell him about her plans. The emotions were so intense during that part! I liked the characters, but Jane not telling Sean about moving forward with her mission plans was just mean. Her likability during that part was on shaky ground.

The book has two other sections that weren't quite as emotionally intense as the first section, but those sections definitely had their moments of high emotion. At times I really wasn't sure how things were going to pan out for our main characters. I really had grown to like them, and wanted their happiness.

Initially I didn't realize this was a spin off of two other books this author has written (Playing for Keeps and Double Play), but since I liked those books, that was a pleasant surprise. They gave me some background into some minor characters in this book, but you can read this on its own without feeling lost.

This was a really enjoyable read for me. It is LDS fiction (the main characters are members of the Church of Jesus Christ of Latter-day Saints), and the mission is for their church. There is discussion of faith and personal conviction, and I liked how the author included those aspects in a natural way that felt real without being preachy. It was a clean, quick read with a great romance that felt very believable.
Rorie's Review:

I have one thing to say. Communication! Really, is that so very hard? Well, ok, yes. Yes it is. Our family has a running joke about how well we communicate. But even I tend to get frustrated reading about it, when I know it would just be so very easy to open your mouth and say something and then there would be no problems at all...you know, for everyone else, not me. :)

So, Jane has communication issues. She doesn't want to hurt anyone's feelings, so she leaves things unsaid. Pretty important things. And then they fester and grow in to something that blows up in her face.

Sean has nice-guy issues. He's too nice to everyone. He wants to help everyone and not let anyone down, but it's often at his expense.

Both of these characters are good people, but they have that major flaw that makes what could be a happily-ever-after couple turn into a bit of a nightmare of resentment and misunderstandings for them. And then Victoria comes in to the picture. I just didn't like her. She seemed too cold and calculating and not at all Sean's type.

I was happy with the ending, and the book was enjoyable to read, but I did find myself in a constant state of annoyance that Sean and Jane couldn't just talk their issues out already. :)
Tarah's Review:

What a beautiful cover! I love the balloon, the skirt, the heels, and I really love the font on the title. Yes, I am aware how geeky that makes me sound, but I love a good font. Plus, I enjoy when the title is part of the book. Things like that make me happy.

I'm not sure that you would say this is part of a series. I haven't seen anything that says it is (but sometimes I don't notice the obvious). You could read this and not read the other two novels, and you would be fine. Minor characters play a part, but not a big enough one that it would be confusing. Everything pertinent is mentioned in the writing.

If you are reading this book you are most likely aware that it is LDS fiction. Especially since it is about Jane serving a mission. So obviously religion is a part of the book and you won't be surprised by it.

If you liked the other books by Ranee Clark, you will definitely want to give this one a try.

Tour Schedule:
Giveaway:
a Rafflecopter giveaway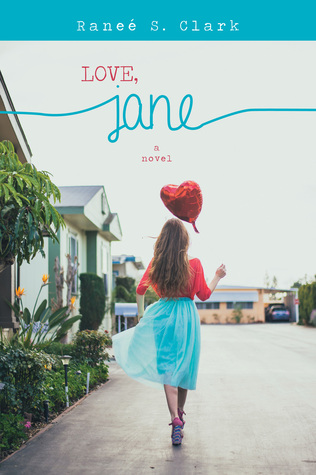 Title: Love, Jane
Author: Ranee S. Clark
Publisher: Covenant Communications, Inc.
Published: March 2017
ISBN: 1524401366
Source: We received copies from the publisher in exchange for an honest review.