Book Description:
Mother Nature: the world's most innovative killer.

Deep in the jungles of Venezuela, mycologist Dr. Julia Fatheringham is engrossed in her study of native fungi. But what begins as a standard research trip quickly spirals into chaos when her associate's erratic behavior results in his horrifying death. Soon, Julia makes a startling discovery: her partner was contaminated by an organism found only in insects. It alters the victim's mind in alarming ways, with an invariably deadly outcome. Julia is baffled by her discovery—this organism has never appeared in humans. It shouldn't be possible. There is only one terrifying conclusion: The infection has jumped species.

Now, in this remote corner of the world, a contagion of unparalleled horror rests in Julia's hands. But even as she works to contain the organism that could spell devastation of apocalyptic proportions, there are others with a different agenda. They've learned of her discovery and will go to any lengths to acquire a sample—there is good money to be had in eco-terrorism.

Armed only with her strength of mind and what courage she can gather, Julia prepares to battle the devastating scourge—and the terrorists determined to unleash it on humanity.
Book Review:
Before I started this book I had to mentally prepare myself :) Most of what I read is in the Romance genre. The last book I read by Gregg Luke I was expecting a romance (the back of the book was totally misleading) and I was unable to enjoy that story because it wasn't what I was expecting. So before I started this book I had to make sure I understood that this was in no shape or form a romance, and then I was able to enjoy it :)
It grabbed my attention right away, and I stayed up all night finishing it. Julia was an interesting character, and I loved her accent. That isn't something I see much in the novels I read, and it was entertaining. I will admit that part way through I thought, "Wow...this just keeps going". One suspenseful thing after another.
The minor characters were maybe not my favorite of all time, but it didn't slow down the read at all. I will also admit to being surprised by some of the content, given the publisher. There is a sleazy girl in this book, and she and a guy have sex. It's all implied, not explicit or descriptive, but it is there and that wasn't expected.
If medical suspense novels are your thing, Gregg Luke does a great job giving you the willies :) I will never look at a mushroom the same again.
a Rafflecopter giveaway
Blog Tour Schedule: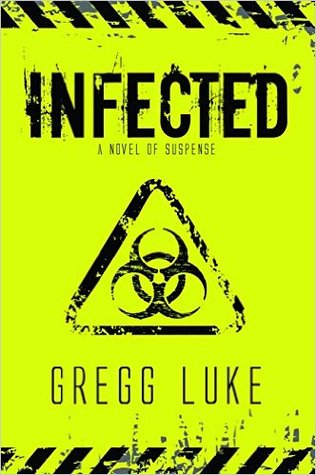 Title:
Infected
Author: Gregg Luke
Publisher: Covenant
Published: September 2016
ISBN: 9781524400644
Source: I received a copy from the publisher in exchange for an honest review.