Book Description:
Will Hawkins is just a simple stable boy. How can he hope to woo Ella, his once-wealthy childhood friend who is stubbornly independent, especially when his competition is the prince? Without any magic or fairy godmothers, Will must show Ella that he is her true prince charming in this perspective twist of the Cinderella story.
Andrea's Review:
Excellent story. I really enjoyed that it was told from Will's perspective. Most romance novels I've read are from the female's point of view and this difference really made the story for me. Will and Ella are both great characters.
This can be read as a stand alone book. It's been quite awhile since I read Just Ella and although I knew how it would end I really enjoyed this.
I love the twist to this story. I love how much Will loves Ella-to the point he'll give her up if that means she can be truly happy.
Rorie's Review:
I loved Ella, so I was really excited to have a chance to read Ella's

Will.
Will is such an amazing person. He is thoughtful, kind, and just a genuinely good guy - maybe a little bit too good, in that he is so concerned with what he thinks would be best for Ella that he almost takes himself out of the picture.

It was kind of heartbreaking to read his point of view, knowing how much he cared for Ella.
I think that you really need to read Ella before reading this book, simply because you don't get as much detail about what Ella goes through in this book as you do in the first one, so it's not as easy to under

stand why Will is so protective of her.
This book is definitely a keeper though, and now I want to go back and re-read Ella

again.
Tarah's Review:
I couldn't wait to read this book, and let me just say that it did not disappoint. I love getting everyone's point of view in the story, so the repeat stuff didn't bother me. Actuall

y

, there wasn't much that repeated. Obviously there are somethings, but I was pleased with the lack of

repetition.
Right after I was done I went back and re

read Ella, just to enjoy it all again :)
There are just two things that bothered me just a little. Will's friend is great, and I actually really liked him, but I'm not satisfied at all with his ending. Please, please, please tell me there will be more, or some happy clarification. It just can't end that way for him....it just can't. And then there was Will. He's great, right?

You gotta love Will. But maybe sometimes he was just a little too perfect. Not enough for me to not like him, or really be hugely bothered by it, but it is there.
I loved this book, and will reread it and recommend it to my book-reading

friends.
About the Author:
Jessilyn Stewart Peaslee graduated with a BA in English from Brigham Young University in 2004. She loved taking creative writing classes, and was particularly fond of the works of Shakespeare, Jane Austen, and the Bronte sisters. She also studied French and the humanities. Jessilyn grew up in the beautiful deserts of Southern California and now resides in the shadow of the Rocky Mountains in Saratoga Springs, Utah, with her husband and five boys.
Tour Schedule:
September 12: Crossroad Reviews
September 13: Cami Checketts | Geo Librarian | My Love for Reading Keeps Growing
September 14: Hardcover Feedback
September 15: Getting Your Read On
September 16: Live to Read | Reidhead Random-ness
September 17: Singing Librarian Books
September 18: The Power of Words
September 19: Bookworm Lisa
September 20: Diane Strinham Tolley | Two Kids and Tired Books
September 21:
September 22: Hello Happy | Rockin' Book Reviews
September 23: Mel's Shelves
September 24: Blog Critics
September 25: Blooming with Books
September 26: Katie's Clean Book Collection
September 27: Bookworm 2 Bookworm | Inklings and Notions
September 28: Reading for Sanity | Literary Time Out
September 29: Kindle & Me | Making Life a Bliss Complete
September 30: My Book a Day | Wishful Endings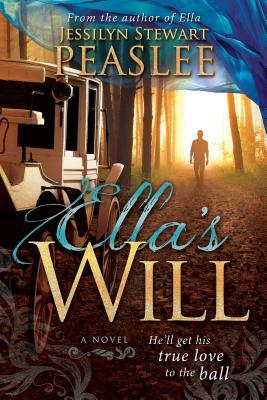 Title: Ella's Will
Author: Jessilyn Stewart Peaslee
Publisher: Sweetwater Books
Published: September 2016
ISBN:
1462119085
Source: We received copies of this book from the publisher in exchange for an honest review.