Book Description:
Spring 1813
The exotic splendors of India are legendary, and the colorful sights of her new home in Calcutta immediately captivate eighteen-year-old Lady Helen Poulter. Whereas many of her fellow British expatriates despise the culture they see as barbaric, Helen sees excitement in the unusual locale. It is in this vibrant, bustling city that she finds a kindred soul in Captain Michael Rhodes, an Englishman whose lifelong love of India runs deep. Their friendship quickly grows, yet despite their undeniable connection, she could never think of Captain Rhodes as more than a dear friend.

Her love, in truth, has been captured by dashing British Lieutenant Arthur Bancroft. This handsome soldier represents the embodiment of all she's dreamed of in a husband. Preoccupied by her growing affections, Helen never dreams that beneath the glamor of the city, hostilities are reaching a boiling point. When battle ultimately threatens both of the men in her life, she must make a choice: pursue the man who symbolizes her British past, or let herself love a man who promises an unknown future in the land she loves. But amid the casualties of war, will her declaration of love come too late?
Andrea's Review:
This was such a sweet story! I loved it and read it very quickly. I liked that the main characters weren't typical and how this probably helped them be at ease with each other immediately. The Indian setting was definitely new for a Regency novel and it really added a lot to the story. The idea that two couples truly loved each other and didn't care for titles or money made the story heartwarming. That along with Michael's personality and that he would do anything for Helen even though he felt that she didn't love him.
Lady Helen Finds Her Song
is a great story that I would read again.
Rorie's Review:
I loved this story, from start to finish. Helen is such a good, genuine person, you just can't help but like her. I loved her fascination with all of the new things she was seeing in India, especially in spite of the attitudes of the other British people there. I enjoyed Michael's character as well. He is noble almost to a fault, especially when it comes to his feelings for Helen. Some of the other characters were like nails on a chalkboard - which is exactly how they were supposed to be, I think. :)
The author gives a great description of what it was like living in India in that time period - I am so very, very glad for air conditioning and that it only gets humid where I live a few weeks out of the year.
All in all, a very enjoyable book. This was one that I finished in only a few days, and will definitely recommend to anyone.
Tarah's Review:
This book was my "treat" book. I told myself that I couldn't read it until I got certain unpleasant things finished first. It was totally worth the wait :) Beautiful cover, great author, and another winner (although I will admit that I think the book description is a tad misleading.
I read it and I thought, "Oh dear, a love triangle" but happily it wasn't like that at all.
After finishing this book I immediately went back and re-read
Ms. Burton Unmasks a Prince
where we first meet Helen. She didn't play a huge role, so I was curious about her, but honestly, it was her step-father that made me want to go back and reread it. I loved his relationship with Helen's mother. He makes for a great minor character.
How can you not fall a little bit in love with Michael? He was wonderful, even if I did want to slap him a couple times for not seeing what was in front of him and believing in himself.
I would definitely read this again, and recommend it to a friend.
Tour Schedule:
Tour Giveaway:
a Rafflecopter giveaway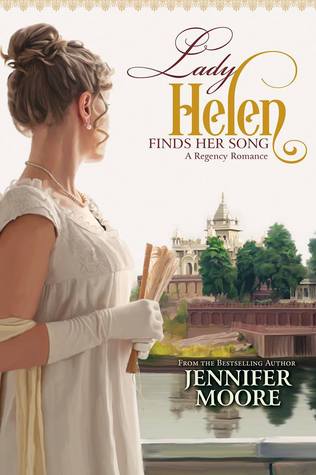 Title:
Lady Helen Finds Her Song
Author: Jennifer Moore
Publisher: Covenant
Published: April 2016
ISBN: 1680478931
Source: We received copies from the publisher in exchange for a review.
Purchase:
Amazon
|
Kindle
|
Deseret Book