Book Description:
When Amelia Wagner takes over the running of her father's newspaper in Granite Springs, Arizona, she vows to carry on the paper's commitment to reporting only the truth. But Amelia soon learns that even the truth can have consequences. Her father's revealing articles about Great Western Investment
Company's business methods have caught the notice of the wrong person, and pressure mounts for Amelia to retract her father's statements.

Determined to find the truth, Amelia goes through her father's notes and begins to interview members of the community. She can't seem to shake Benjamin Stone, a Great Western employee who's been assigned to keep tabs on her for the good of the company.

The more Ben and Amelia learn, the more Amelia's father's claims appear to be accurate. In fact, it's probably worse than he realized. Even Ben is beginning to wonder if he's become a pawn in the workings of a corrupt empire. But Great Western isn't about to stand for a female reporter and one of their own men bringing down their lucrative schemes. Working against time, and never knowing what danger lurks around the next corner, Ben and Amelia set out to reveal all they've discovered before Great Western silences them for good.
Book Review:
I've only read one other book by Carol Cox, and I thought it was well done. I was excited to give this one a try, although I'm hesitant about newspaper stories.

While Amelia isn't my favorite heroine ever, she isn't the worst either. She's so determined to find this story that she doesn't treat those around her very nicely. I would not have been as patient with her as Homer was.

Ben is a great male lead. I would have enjoyed getting to know more about his relationship with his family back East though. Especially at the end.

The almost kisses in the book were my favorite part, and I loved that none of them actually happened.

I enjoyed this clean read, and will definitely look for more from this author in the future.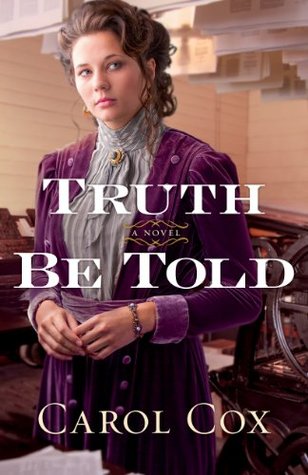 Title: Truth Be Told
Author: Carol Cox
Publisher: Bethany House
Published: June 2014
ISBN:
0764209574
Source: I received an eCopy from NetGalley in exchange for a review.