The Second Season by Heather Chapman
Book Description:
Eleanor Hopkins has lived in disappointment for far too long believing that her husband only married her for fortune, and she determines to protect her own daughters from such misery by scheming to secure offers for both Lucy and Caroline based on mutual rank and reputation. When Caroline finds that the handsome and reputable Lord Searly desires her as his wife, she finds that no amount of planning or pretending can convince her to accept him. Instead, she is confronted with an unexpected and reluctant suitor in the respectable shoemaker Thomas Clark.
Tarah's Review:
There are a lot of points of view in this book, and I can't decide if I liked it or not. However, I read the book really quickly and was interested in what happened to everyone.
The parental dynamics in this novel were different, and I wasn't sure what to make of the mother. Her choices for her daughters, and her relationship with her husband had me wondering if I liked her or not, or if I felt sympathy for her, or if I wanted to shake her and tell her to stop it :)
I would like to know what eventually happens to some of the characters at the end. There is sort of closure, but I feel like one of the stories didn't get wrapped up as much as I'd have liked.
Rorie's Review:
This book had the makings of being a good story, but sadly, it just didn't do it for me. The first chapter seemed completely unnecessary to the story, and it wasn't until several chapters later that I realized this book was going to go from the past to the present several times. That helped the first chapter make more sense, but I'm not sure that it was necessary for the story.
I liked Caroline and Thomas, and really did not like Lord Searly and Charles. I didn't understand Caroline's mother, and I spent the first half of the book thinking her father was an ogre, only to suddenly find out that he was more on Caroline's side than anyone else in the family was. I think that was the main issue I had with this story. It was really hard to follow at times - I even had to re-read passages a few times because I wasn't sure what just happened.
The story did finally get better at the end, but it was a bit too little, too late for me.
Andrea's Review:
I really like the clean Regency genre, so I was excited to read
The Second Season
. I did not find myself pulled in right away (which typically does not bode well for a book on my to-read list). The first part was a little confusing, and in all honesty I had so many other books to read that I forgot about it. That sounds horrible, but I am glad that I remembered it and decided to give it another try.
This was different from many Regency novels, but in the end it was different in a good way. In
The Second Season
the marriage mart is in full swing; however, the two main characters (Caroline and Lucy) weren't just looking to better their social standing and fortune. Perhaps they didn't feel as much of a need to do so since they already had wealth, but they both really just wanted to find love. Their journeys had quite a few ups and downs, and the look into their parents' relationship was quite interesting. It was also sad, but I was glad that they eventually communicated.
I didn't care for a couple of the suitors in the novel, but even as awful as they were at times, I couldn't help but wonder how things ended for them.
This was an interesting story with a handful of flashbacks and I couldn't help but enjoy Caroline for her lack of fitting the mold.
Blog Tour Schedule:
September 13:
Live to Read
|
Bookworm 2 Bookworm
September 14:
Rockin' Book Reviews
|
Robyn Echols Books
September 15:
Bookworm Lisa
|
Fire and Ice
September 16:
Megan Linski
September 17:
Literary Time Out
September 18:
Jorie Loves a Story
September 19:
Katie's Clean Book Collection
|
Julie Coulter Bellon
September 20:
Geo Librarian
|
Jorie Loves a Story
|
The Dragon's Nook
September 21:
Mel's Shelves
September 22:
Getting Your Read On
September 23:
The Things I Love Most
|
Singing Librarian Books
September 24:
Hardcover Feedback
|
A Bliss Complete
September 25:
Inklings and Notions
|
Blooming With Books
September 26:
Storyweaver
September 27:
Novel-ties
September 28:
My Book a Day
September 29:
Wishful Endings
|
The Story Sanctuary
September 30:
Writing Worm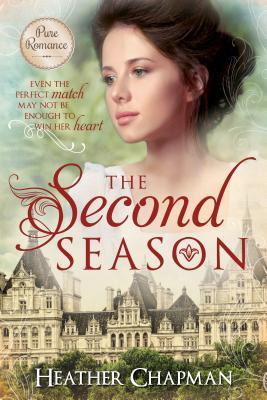 Title:
The Second Season
Author: Heather Chapman
Publisher: Sweetwater Books
Published: September 2016
ISBN: 1462118844
Source: We received a copy from the publisher in exchange for an honest review.