Book Description:
Lydia's job at the library is her world—until a mysterious patron catches her eye . . . and perhaps her heart.

Just months after the closure of the Chicago World's Fair, librarian Lydia Bancroft finds herself fascinated by a mysterious dark-haired and dark-eyed patron. He has never given her his name; he actually never speaks to a single person. All she knows about him is that he loves books as much as she does.

Only when he rescues her in the lobby of the Hartman Hotel does she discover that his name is Sebastian Marks. She also discovers that he lives at the top of the prestigious hotel and that most everyone in Chicago is intrigued by him.

Lydia and Sebastian form a fragile friendship, but when she discovers that Mr. Marks isn't merely a very wealthy gentleman, but also the proprietor of an infamous saloon and gambling club, she is shocked.

Lydia insists on visiting the club one fateful night and suddenly is a suspect to a murder. She must determine who she can trust, who is innocent, and if Sebastian Marks—the man so many people fear—is actually everything her heart believes him to be.
Book Review:
I've got to say that out of all the Chicago World's Fair Mystery series this was by far and away my favorite. It's been awhile since I've read the others, but I think this one wasn't quite as dark and didn't have such rough topics. I've also got to admit that Sebastian reminded me a lot of Elizabeth Camden's main character Bane. Sort of the bad boy turned good story. And it's a good story. Personally, I'm not much for the bad boy image, but I do love a good happy ending :) This ending seemed a little weak to me. Don't get me wrong. It definitely ended and it was a good ending, but it all just kind of happened. There was a lot of stuff going on in the first three quarters of the book and then, BAM it all just got resolved and finished.
While liked the main characters, (Lydia has a great job, what's not to love about being a librarian?) I really enjoyed the minor characters. Mr. Hunt and Bridget were great and I wanted more from them. Maybe that's why this ending didn't satisfy as much as I was hoping.
If you've read the other two books, you definitely need to finish with this one. And if you haven't read the other two books, this one can actually stand alone. Some characters are the same, but they are minor minor and it wouldn't affect the story at all if you didn't know their back story.
This is a clean story with some religious elements thrown in (which I really loved, they were well written and actually fit into the story) but nothing that would be considered preachy.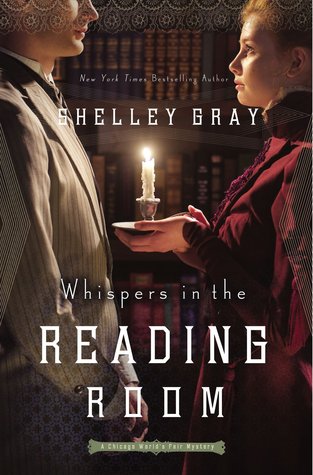 Title:
Whispers in the Reading Room
Author: Shelley Gray
Publisher: Zondervan
Published: November 2015
ISBN: 0310338492
Source: I received an ecopy from NetGalley in exchange for a review.