Book Description:
Stone Hammond is the best tracker in Texas. He never comes home empty-handed. So when a wealthy railroad investor hires him to find his abducted granddaughter, Stone eagerly accepts.

Charlotte Atherton, former headmistress of Sullivan's Academy for Exceptional Youths, will do anything to keep her charges safe, especially the little girl entrusted to her care after her mother's death. Charlotte promised Lily's mother she'd keep the girl away from her unscrupulous grandfather, and nothing will stop Charlotte from fulfilling that pledge. Not even the handsome bounty hunter with surprisingly honest eyes who comes looking for them.

When the teacher he's after produces documentation that shows she's the little girl's legal guardian, Stone must reevaluate everything he's been led to believe. Is Miss Atherton villain or victim? She acts more like a loving mother than an abductress, and the children in her care clearly adore her. Should Stone break his perfect record?

Then a new danger threatens, and Charlotte is forced to trust the man sent to destroy her. Stone becomes determined to protect what he once sought to tear apart. Besides, he's ready to start a new pursuit: winning Charlotte's heart.
Book Review:
Karen Witemeyer is one of those authors that never seem to disappoint. Sure I like some of her books more than others, but I find myself rereading all of them, even the ones I didn't love.
A Worthy Pursuit
is no exception for me, but let's start at the cover :)
While the cover screams Karen Witemeyer, and fits the other books she's written, I don't feel it really fits this book as well. Maybe it's the smiling lady on the front. Charlotte wasn't known in the stories for smiling at Stone a lot, because it was a really big deal when she did. But whatever...I mean, a cover is just a cover...the important stuff is the content.
A Worthy Pursuit
had great characters to get to know. I liked getting to know what Charlotte was like behind the mask she always wore. I liked seeing how Stone reacted to different situations, especially his teasing of "the gnome". The kids were a pleasure to see grow and develop and even the secondary characters like Dead Eye Dan added some flair to the novel.
While I would have liked more dealing with Charlotte and her family, and while it seemed like the conflict was solved rather easily, I'd still recommend giving this book a try. Gotta love good clean fiction.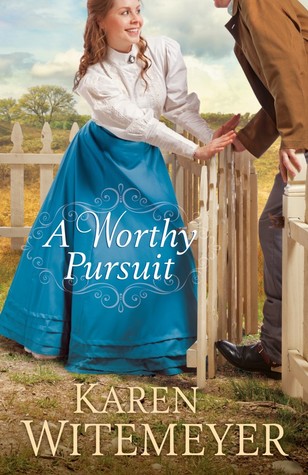 Title:
A Worthy Pursuit
Author: Karen Witemeyer
Publisher: Bethany House
Published: June 2015
ISBN: 076421280X
Source: I received an eCopy from NetGalley in exchange for a review.