Book Description:
Johnny Paynter flees Denver to escape being hanged for a murder he didn't commit. At his brother's ranch in Texas, where he thought he could take refuge, he finds his brother, Mark—dead. Taking advantage of his strong resemblance to his brother, Johnny assumes Mark's identity. Soon Johnny discovers that Mark had been corresponding with a widow named Sally in St. Louis, and she's en route to be a mail-order bride to Mark. Seeing no other option, Johnny makes a fateful decision to go through with the wedding, posing as his brother. But Sally has secrets she's hiding, too. How will a marriage survive with so much deception?
Book Review:
This was a well written book filled with lots of .... angst. You know the kind. The "I need to communicate with her, but..." and reasons upon reasons fill up pages of why these two can't communicate with each other. So, that's not new there, but I did like the mis-identity of the story.
I can't even imagine going through anything like Sally goes through, and I appreciate her strength at the end of the novel. Johnny/Mark Paynter is a little too....weak for my taste. He can't make up his mind and is easily swayed back and forth. He is a sweet heart though and does the best he can for him and Sally.
Nothing really stands out in this novel, but it's a pleasant read, clean, and made me think about how I stand up to pressures of other people.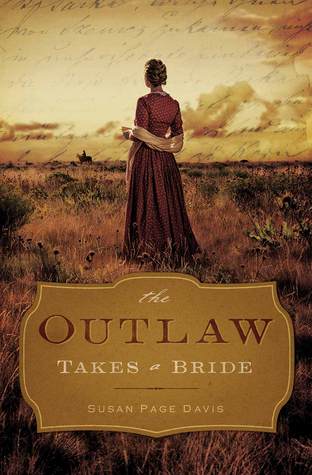 Title:
The Outlaw Takes a Bride
Author: Susan Page Davis
Publisher: Shilo Run Press
Published: March 2015
ISBN: 163058259X
Source: I received a copy from NetGalley in exchange for a review.