Having fled a difficult home life, Civil War nurse Abigail Stuart feels like her only friend in the world is sweet but gravely wounded patient Jeremiah Calhoun. Fearing he won't survive, the Confederate soldier's last wish is that Abigail look after his sickly sister at home. Marry him, return to his horse farm, and it'll be hers.

Left with few choices, Abigail takes him up on his offer and moves to Missouri after his death, but just as the family learns to accept her, the real Jeremiah Calhoun appears--puzzled to find a confounding woman posing as his wife. Jeremiah is determined to have his life back to how it was before the war, but his own wounds limit what he can do on his own. Still not fully convinced Abigail isn't duping him, he's left with no choice but to let the woman stay and help--not admitting to himself she may provide the healing his entire family needs.
Book Review:
I was really excited to read this book. I loved the premise of it. Abigail was a great character, and the supporting characters were really fun as well. Well, except the sister. She was a piece of work, but that was explained and it added a different type of conflict apart from the main conflict between Abigail and Jeremiah. I really struggled with Jeremiah. Not his going back and forth, that is realistic and fine. The part I struggled with was his personality. He was so....aggressive. I'm not sure if that is the right word or not, but he was just so antagonistic towards everything I had a hard time seeing his better qualities.
Overall, it was a good read from an author that I really enjoy and would definitely try more of her books.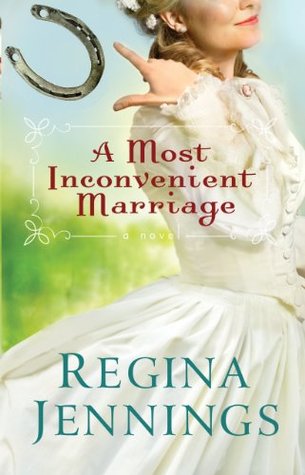 Title:
A Most Inconvenient Marriage
Author:
Regina Jennings
Publisher:
Bethany House
Publish Date:
December 2014
Source:
I received an eCopy in exchange for a review.