Book Description:
Margaretha has always been a romantic, and hopes her newest suitor, Lord Claybrook, is destined to be her one true love. But then an injured man is brought to Hagenheim Castle, claiming to be an English lord who was attacked by Claybrook and left for dead. And only Margaretha---one of the few who speaks his language---understands the wild story. Margaretha finds herself unable to pass Colin's message along to her father, the duke, and convinces herself 'Lord Colin' is just an addled stranger. Then Colin retrieves an heirloom she lost in a well, and asks her to spy on Claybrook as repayment. Margaretha knows she could never be a spy---not only is she unable to keep anything secret, she's sure Colin is completely wrong about her potential betrothed. Though when Margaretha overhears Claybrook one day, she discovers her romantic notions may have been clouding her judgment about not only Colin but Claybrook as well. It is up to her to save her father and Hagenheim itself from Claybrook's wicked plot.
Book Review:
Where to start...where to start. Let's start with the less important, but still fun part. The cover! Who ever designs Melanie's covers does an amazing job. All of them are beautiful, but this one I think is my favorite because of all the color. It's eye catching and totally something I would pick up off the shelf to see if I was interested in it. Also, while it is Christian Fiction, it didn't seem as preachy as her other novels have (not that they were preachy, but they played a bigger role than in this one).
I can't think of anything I didn't like about this book. Like I said, I have enjoyed all Melanie's other novels, but this one just flowed better for me. It didn't drag like I felt some of her others did. It was exciting and it moved along at a great pace. Oh, wait, I wish there would have been more resolution between Margaretha and her family and her "character flaws".
Margaretha is a hoot. I loved her character! She was really funny to me. Normally you get heroines that are super brave and strong and whatnot, and while she was, I like that the focus was on how much she liked to talk...and talk and talk and talk.
Collin was great. I like how he went from thinking Margaretha was annoying to genuinely coming to care for her. I like how concerned he was about taking her away from all that she knows. I love how he wasn't the strongest or best and how he had to be protected sometimes.
I can't wait to start this book again. If you are looking for a good, clean read, give this one some attention.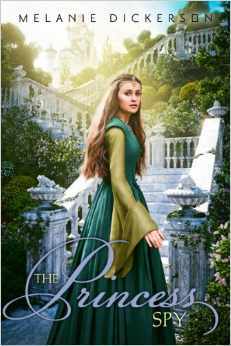 Title:
The Princess Spy
Author:
Melanie Dickerson
Publisher:
Zondervan
Published:
September 2014
ISBN:
1609079280
Source:
We received copies from the publisher in exchange for a review.