Book Description:
Galileo. Newton. Salk. Oppenheimer.
Science can change the world . . . but can it go too far?

Eleven-year-old Ellie has never liked change. She misses fifth grade. She misses her old best friend. She even misses her dearly departed goldfish. Then one day a strange boy shows up. He's bossy. He's cranky. And weirdly enough . . . he looks a lot like Ellie's grandfather, a scientist who's always been slightly obsessed with immortality. Could this pimply boy really be Grandpa Melvin? Has he finally found the secret to eternal youth?
Book Review:
I wasn't sure what to expect out of this book, and let's be honest, I downloaded it by mistake :) However, it was a happy one! Not only was this a fun, quick read, it was well written and interesting.
Ellie is an interesting character, and I thought she was portrayed in mostly an age appropriate way. Melvin is awesome in a rude, cranky, bossy, know-it-all, old guy way. Raj is awesome ( I really need to find a different adjective don't I?). I will admit to being worried that the author was going to throw some romance in there between Ellie and Raj, but thankfully she didn't. Don't get me wrong, I love romances, but Ellie turns 12 in the book. Since I have no desire to read about a 12 year old romance, I'm glad that didn't materialize. While I didn't fall in love with the mom, her character was well written believable.
My husband asked me if I was going to read this to our kids, or have them read it. Here's the thing, I think it's way over their head. I will definitely wait until they reach the Middle School stage of life (ugh...can't wait for that drama). If you have a middle grade child, or if you like middle grade fiction, this is one that I would recommend.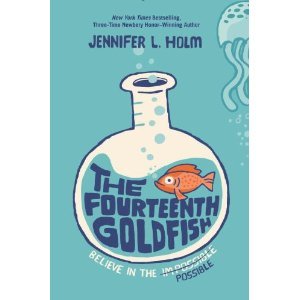 Title:
The Fourteenth Goldfish
Author:
Jennifer L. Holm
Publisher: Random House Children's
Published: August 2014
ISBN:
9780375870644
Source: I received an eCopy from Netgalley in exchange for a review.