Reviews * Giveaway
Christmas Courting
by Jennifer Moore, Chalon Linton, Jen Geigle Johnson, & Heidi Kimball
Book Description:
This holiday season fall in love, with heartwarming tales of Christmases past in A Christmas Courting, an enchanting collection of Regency romances.
Love and Joy Come to You by Jennifer Moore
Lord Covington has planned a quiet holiday with his grieving mother but finds his plans rudely disrupted when lovely Cassie Weatherby and her young siblings are invited for Christmas. Despite his reservations, however, he begins to recognize in Cassie a kindred spirit.
A Christmas Courting by Chalon Linton
When obligations keep her in London, Keturah Hensley sadly anticipates missing the festivity of Christmas at her family's country home and the company of her best friend, Christopher Shepherd. When she learns that Christopher will be joining her family in London for Christmas, she is delighted--but her elation is short-lived. Christopher is coming to Town to court the woman of his dreams, and Keturah fears she may have lost the chance to win his love.
Mistletoe Memories by Jen Geigle Johnson
From childhood, Patrick, Duke of Montrose, knew he'd found his perfect match in Lady Alice Tarrington. When he's sent on a grand tour, Patrick is confident he'll marry his sweetheart upon his return. But when he receives word that Alice is to marry another, will he be too late to claim her heart?
Second-Chance Christmas by Heidi Kimball
Francie and Gerard have been friends since childhood, but their friendship ended when she declined his heartfelt proposal of marriage. However, when her interactions with Gerard's holiday houseguests provoke in Francie unexpected jealousy, she realizes she must fight for Gerard's affections or risk losing him forever.
Andrea's Review:
I love the cover of this book! It makes me want to curl up in front of a fireplace with hot chocolate and read all day. Sadly, I had to read most of the book on an airplane, so my comfort level wasn't great. Luckily the novellas helped the flight go by faster.
The stories are well-written. Three of the four include couples with some sort of prior relationship, so the romances don't feel extremely rushed.
Love and Joy Come to You
included a totally new relationship, and while it was fast, it was written in such a way that I wasn't put off by the speed. I liked the characters and their interactions.
Christmas Courting
is an enjoyable story, although I was held up by the name Keturah. It didn't feel like it fit the time period (maybe it is authentic, but uncommon). I felt bad for Keturah as her heart was jerked around, but I liked the happy ending.
Mistletoe Memories
was a fun read. I was thrown a few times by the flashbacks as nothing broke them up (i.e. a symbol on the page or italicized font), but I got used to that or they lessened. I could understand Patrick's hurt, but I did wish he'd tried earlier on to find out what had happened with Alice instead of assuming the worst of her.
Second-Chance Christmas
is a story about almost losing love when the main character didn't realize it had been in front of her for quite some time. Gerard's poor heart was jerked around, but it was great to read about him getting his happy ending.
This collection is clean and a fast read. I would read more from each author.
Rorie's Review:
Two novella books in one week, I'm on a roll! :) I still struggle with novellas, but putting that aside, I did enjoy this book. For the most part, the stories didn't feel too rushed. Probably because in 3 of the 4 stories, the main characters already knew each other.
In
Love and Joy Come to You
, I enjoyed how Cassie was able to slowly break down Lord Covington's defenses and show him what he had been missing after shunning Christmas celebrations since the death of his father and sister. I do wish that there had been a bit more detail on his back story, but I'm kind of nosy that way.
I got a bit frustrated with
Christopher in A Christmas Courting
. If he would have just told Keturah outright what was going on, it would have saved her a lot of pain and him quite a bit of frustration. Even though the reader can guess right away what will happen, this is a sweet story.
Mistletoe Memories
was the most difficult for me to get in to. The author kept alluding to what had happened to Alice, but it was done in such a way that I felt lost through most of the story, like I was missing a very important piece of the puzzle and everyone else knew where it was but they weren't telling me. I would have preferred it if the author would have told the reader what the issue was near the beginning of the story instead of making it such a mystery.
My favorite story was probably
Second-Chance Christmas
, although at the beginning, I kind of wanted to throttle Francie for her complete cluelessness at how Gerard must be feeling.
All in all, this is a sweet, quick read, perfect for the Christmas season (*it's totally the Christmas season right now, all the stores have their Christmas decorations out already.)
Tarah's Review:
I love Christmas stories. It doesn't matter the time of year that I read them. In fact, my favorite time to read Christmas stories is probably in the summer. I don't know why. I'm just weird like that, but I was really excited to read this compilation.
My two favorite stories were
Love and Joy Come to You
, which was just a sweet story of healing and love, and
Second-Chance Christmas
. I like when people finally realize their feelings
for each other. I also enjoyed
A Christmas Courting.
I felt bad for Keturah, but I actually thought the leading guy was pretty fun.
I struggled with
Mistletoe Memories
. It was well written, and didn't seem like a short story, but the whole time I felt like I needed more backstory. I felt like I should have read something else before this to give me insight to what was going on. There was a feeling of familiarity, but I was super frustrated because I wasn't sure if it was supposed to feel that way. I also wish that Patrick would have stood up for Alice during one of her difficult times.
Anyway, it has a beautiful cover, and it's a great compilation of Christmas stories.
Tour Schedule:
Tour Giveaway:


a Rafflecopter giveaway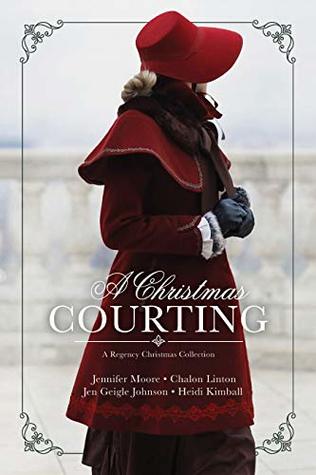 Title: Christmas Courting

Authors:

Jennifer Moore, Chalon Linton, Jen Geigle Johnson, & Heidi Kimball

Publisher: Covenant Communications Inc.

Published: October 2018

ISBN: 1524407941

Source: We received copies from the publisher in exchange for an honest review.
Purchase: Amazon | Deseret Book