Book Description:
After helping her grandfather at their Boston auction house, Miranda Wimplegate discovers she's accidentally sold a powerful family's prized portrait to an anonymous bidder. Desperate to appease the furious family, her grandfather tracks it to the Missouri Ozarks and makes an outlandish offer to buy the local auction house if they promise not to sell anything until he arrives.

Upon their arrival, however, they discover their new business doesn't deal in fine antiques, but in livestock. And its manager, ruggedly handsome Wyatt Ballentine, is frustrated to discover his fussy new bosses don't know a thing about the business he's single-handedly kept afloat. Faced with more cattle than they can count--but no mysterious painting--Miranda and Wyatt form an unlikely but charged partnership to try and salvage a bad situation getting worse.
Book Review:
I don't know if it was the holidays, or what, but it took awhile for me to get through this book. Not once I really started reading it, but the first little bit I read with days in between, and that normally doesn't happen with me when I read.
I liked it. Cute cover, interesting back blurb, and my kind of story. There was just something missing that I can't put my finger on. Which is part of the problem. I just barely read this, and I can't really remember much about it. Even going back and rereading other's reviews I can't remember loads of details about the book. I remember liking the overall storyline. I remember liking Miranda finding out who she is, and I remember liking what happens to Wyatt, but...I don't know. Maybe it's because the story would have moved along better if more of it took place in Miranda's home town. I do remember that it was entertaining seeing Wyatt out of his element, but how he still handled himself well.
I'll still read more from this author, and I'm not sad that I read this book. I just wish it had that something extra that made it more memorable.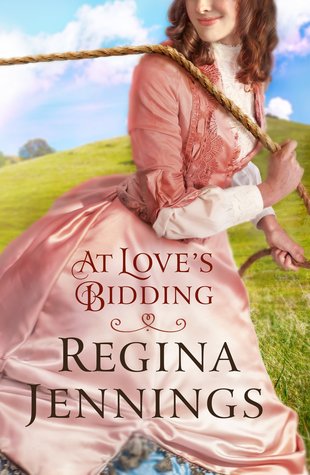 Title:
At Love's Bidding
Author: Regina Jennings
Publisher: Bethany House
Published: December 2015
ISBN: 0764211412
Source: I received a copy from the publisher in exchange for a review.