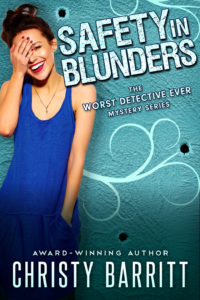 Safety in Blunders by Christy Barritt
Book Description:
Hollywood sweetheart Joey Darling's adventures and mishaps continue in the third book of the charming mystery series set in the Outer Banks of North Carolina.

My name is Joey Darling, and I'm a disgrace to imaginary detectives everywhere.

When actress Joey Darling discovers a mermaid tail with drops of fresh blood on it while hiking in a remote nature preserve, she knows something suspicious is going on.

As details surface, Joey realizes she's dealing with a problem she has encountered one too many times: someone desperate for fame who falls victim to a predator. With the help of her neighbor Zane Oakley and the opposition of local detective Jackson Sullivan, Joey hunts for answers, unaware of the deadly net in which she's about to entangle herself.

Joey knows she's a fish out of water when it comes to cracking cases, but can she use her talent—acting—to help find the missing woman? Or will Joey end up swimming with sharks?
Review:
I've really enjoyed The Worst Detective Every Mystery Series by Christy Barritt. The third book in the series (out of five, I believe) is a great addition. Sometimes series can run dry, but I'm still very interested in Joey, her potential love life, and the mysteries she gets herself involved in while she's trying to find out where her father disappeared to.
Joey does tend to stick her nose in where she shouldn't, but in much of what we are introduced to in this series, her hand is forced. In this particular case, it was great seeing that she was very interested in helping someone to not fall to a predator as she had seen before in her line of work.
The setting and characters make for a very entertaining story. And the romance is great. It's clean and realistic with a slow and believable pace. She's got feeling for two men, but is fighting anything happening due to her recent heartbreak.
There are intense moments with the mystery, but Barritt also keeps things light. The ending of this book was excellent and definitely has me looking forward to the release of book 4 in the series.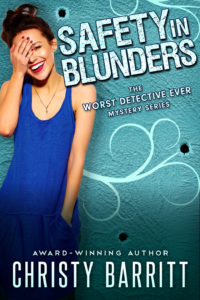 Title:
Safety in Blunders
Author: Christy Barritt
Publisher: River Heights
Published: March 2017
ISBN: 1544816251
Source: I received a copy from the author in exchange for an honest review.