Book Description:
SHE CAN'T ESCAPE

No matter where she runs, rodeo clown Tonya Waters's stalker always finds her. Now he's managed to track her down on the rodeo circuit. If bull rider Seth Starke hadn't saved her, she'd be dead. But when the handsome cowboy is injured in the ring and Tonya rescues him, Seth seems more determined than ever to keep her safe. But can she risk staying at his Tennessee ranch and bringing danger to his family? As her stalker gets more violent, Tonya and Seth vow to outsmart him before he makes good on his ultimate threat: if he can't have her, no one will.

Wrangler's Corner: Family comes first
Book Review:
I enjoy rodeo's. I can't tell you anything about them, other than they are fun to go to. I don't understand why you get points for something and not for another, but the small town rodeo's I've been too have been a lot of fun. I've never really thought much about the clowns though, so this was a fun story, not only to have it about a rodeo clown, but that the rodeo clown is a girl.
While I really enjoyed this story and finished it rather quickly, I found the dialogue hard to follow in some parts. This could be a formatting problem with the version that I was reading, but a lot of the time it seemed like the characters were discussing something and then all of a sudden they were on to something else. Or it didn't seem as natural as I was expecting it to.
The mystery was really well done, and I expected it to go a different way than it did. This is a clean story, which honestly surprised me because of the publisher. I thought Harlequin published racey novels, and maybe they do, but this one and other
Love Inspired
ones I've read have been clean, with no sex or swearing or anything like that. I picked this out because I enjoy the author, and was pleased to discover that there are more books to this series. It's book two, but can definitely be a stand-alone novel.
I've been please so far from everything I've read by Lynette Eason, and if you enjoy a clean suspense/mystery novel, she is a great author to try.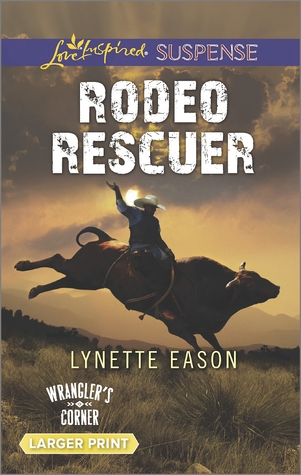 Title:
Rodeo Rescuer
Author: Lynette Eason
Publisher: Love Inspired
Published: September 2015
ISBN: 0373677022
Source: I received an eCopy from NetGalley in exchange for a review.