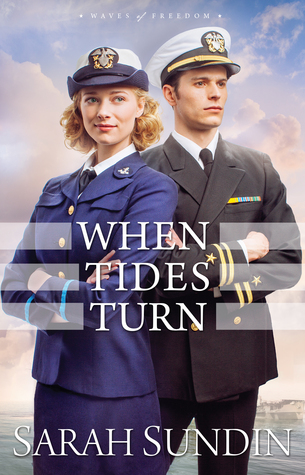 Book Description:
Tess Beaumont is tired of being thought of as just a pretty face. Eager to do her part for the war effort, she joins the Navy's newly established WAVES program for women. Perhaps there she can convince people that there is more to her than meets the eye.

Lt. Dan Avery has been using his skills in the fight against German U-boats and hoping to make admiral. The last thing he wants to see on his radar is a girl like Tess. Convinced that romance will interfere with his goals, Dan is determined to stay the course, no matter how intriguing a distraction Tess is.

But love, like war, is unpredictable. When Dan is shipped out at the peak of the Battle of the Atlantic, he finds himself torn between his lifelong career goals and his desire to help the beguiling Tess root out a possible spy on shore. Could this fun-loving glamour girl really be the one?
Book Review:
When I first read Anchor in the Storm I was very excited to figure it out that it was part of a series. So when When the Tide Turns came out I jumped at the chance to read it. The cover isn't what I had in mind for the characters when I read about them, but as much as I'm a cover snob it doesn't really have anything to do with the book.
Tess is a great character. I love that she switches her name from Quintessa to Tess when she decides she wants to turn over a new leaf. I really enjoyed her peppy and friendly personality,her bravery and how she wanted to be seen for more than her outer appearance. She did take that a little far sometimes, but I can relate. Not the gorgeous part, but the part where when I've decided that this is how something is when someone doesn't behave the way I think they should, my feelings get hurt.
Honestly, Dan was not my favorite character. He was fine when he was with Tess, but most of the scenes without her I found to be a little boring and technical with Navy stuff. Maybe I just wasn't in the mood for the technicalities but I found myself skipping and skimming while Dan was on the boat.
I think this was a fitting end to the Waves of Freedom series. A good clean war time romance that I would recommend.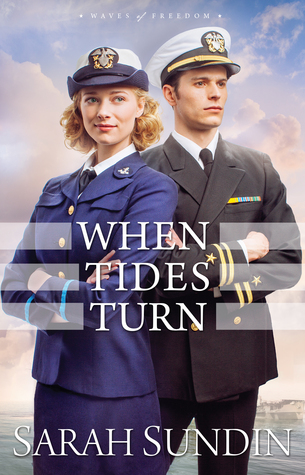 Title: When Tides Turn
Author: Sarah Sundin
Publisher: Revell
Published: March 2017
ISBN:
0800723449
Source: I received an eCopy from NetGalley in exchange for an honest review.