Simply Anna by Jennifer Moore
Book Description:
Suffering from a cruel heartbreak, Lord Philip Hamilton has been driven to seek refuge from the painful memories haunting London, and his father's Jamaican sugar cane plantation provides just the escape he needs. Philip finds solace in his hard work and takes comfort in the fact that his distance from society ensures that his heart will be protected from future entanglements. Protected, that is, until the unexpected appearance of a mysterious woman with no memory of her past. The only clue to her identity is a necklace inscribed with a name: Anna. In a matter of weeks, this gentle, intelligent, and impossibly beautiful stranger turns Philip's world upside down. But as the bond between the pair grows, the threat of Philip losing his heart once more is only the beginning of the dangers that await. Island renegades and a ruthless band of pirates clash in a swashbuckling battle, and it soon becomes clear that these villains may be the key to unlocking Anna's past . . .
Tarah's Review:
After
Becoming Lady Lockwood
I'll admit I've been a little disappointed with the others books of Moore's that I've read. Don't get me wrong, they are good, and I liked them, but they were just missing something that
Lady Lockwood
had.
Simply Anna
has it...whatever "it" is. In fact, I'm going to say that I enjoyed it more that
Becoming Lady Lockwood.
I was worried about Philip in the first little bit of the book (very spoiled and "Ton"ish, but I love how he grew and developed. I love how Anna was able to become herself by not knowing who she was. All of the minor characters are great...well...some are cruel and vindictive, but they are written well.
I will say that I don't love the cover. It fits well into Moore's other books, but something about it....eh. That being said, this book is part of other books of Moore's. However, it can definitely be read as a stand-alone. If I had one complaint about the book, I will admit that I wanted more from the Lockwood's and Sydney and Emma. We don't get to hear anything about what happened when she went missing, and what they did when she was found. Actually, the story never tells us that she is found, but they are all together later. So, I'd have liked more from that point-of-view.
This was a book that I could sit back and devour (as my kitchen will and dirty dishes will attest to right now). It isn't a long read, or may it is but just doesn't seem like it because you can get so wrapped up in the story. I loved it, and recommend it.
Andrea's Review:
I wish I'd had more reading time since I received my review copy three days ago, because
Simply Anna
is an excellent book so far and I can't wait to find out what happens next.
I've been really impressed with the compassion of Anna and Philip. Neither character fits the mold of society, and it's very admirable. Their interaction with each other is great. Both are fighting feelings due to Anna's amnesia, but they work well together and when they have moments to just be themselves it is such a comfortable relationship.
I enjoyed the small bit at the beginning with some characters from Moore's previous books. She writes great characters and intriguing stories. Moore is an excellent author, and I've loved these clean stories.
Tour Giveaway:
a Rafflecopter giveaway
Tour Schedule:
*Sept. 14th:
http://www.rockinbookreviews.com/
,
http://heidi-reads.blogspot.com/
,
http://minreadsandreviews.blogspot.com/
*Sept. 15th:
https://joyinthemoments.wordpress.com/
,
http://www.iamareader.com/
,
http://atransparentmom.com/
*Sept.16th:
http://gettingyourreadonaimeebrown.blogspot.com/
,
http://katiescleanbookcollection.blogspot.com/
,
http://ilovetoreadandreviewbooks.blogspot.com/
,
http://whynotbecauseisaidso.blogspot.com/
,
http://www.ldswomensbookreview.com/wordpress/
,
http://mybookaday.blogspot.com/
*Sept.17th:
http://www.bonnieharris.blogspot.com/
,
http://singinglibrarianbooks.weebly.com/
,
http://ldsandlovinit.blogspot.com/
,
http://literarytimeout.blogspot.com/
*Sept.18th:
http://fireandicereads.com/
,
http://lisaisabookworm.blogspot.com/
,
http://littlelightdesigncollective.com/category/entertainment/books/
,
http://www.blogginboutbooks.com/
,
http://booksaresanity.blogspot.com/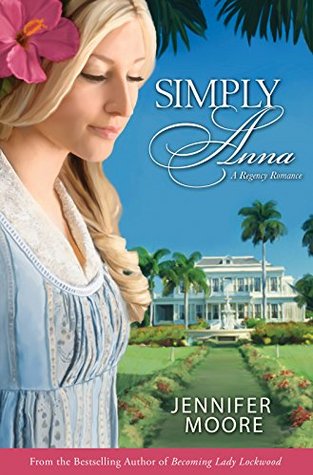 Title:
Simply Anna
Author: Jennifer Moore
Publisher: Covenant Communications
Published: September 2015
ISBN:1680473646
Source: We received ecopies from the publisher in exchange for a review.