Book Description:
Patience Cavanaugh has lost hope in romance. The man she yearned to marry is dead and her dreams are gone with him. Now she is consumed with the restoration of a dilapidated boarding house in order to support herself. Despite her desire for solitude, Jedediah Jones, the local sheriff with a reputation for hanging criminals, becomes an ever-looming part of her life. It seems like such a simple arrangement: Patience needs someone with a strong back to help her fix up the boardinghouse, and Jedediah needs a dependable source of food for himself and his prisoners. But Patience gets more than she bargained for as she explores the depths of the "hanging lawman"--and finds both betrayal and love.
Book Review:
I think I would give this book three stars if I was to rate it. It was okay. Really predictable and I finished it, but there wasn't any "Wow" factor for me. I didn't mind seeing it end (and possibly thought it could have ended sooner than it did). I never really loved the characters, although they sort of grew on me as the story went along. Patience was a bit too much at the beginning of the book, and Jedadiah wasn't all that likeable either (although with the way Patience acted I can't say I blame him for acting the way he did). It was good to see them each grow and change.
My biggest problem was probably the timing of the book. Patience has got to be the most forgiving person ever. And while I appreciate that character trait, it didn't seem like it was all that difficult for her with the main conflict that appeared between her and Jedadiah. Same thing with the mother-issue. The change was just too sudden to be really believable.
I don't really see myself picking this book up and reading it again, but I don't feel any regrets for taking the time to read it. The secondary characters were fun to get to know, and I'm a sucker for Westerns. Not to mention that the content was clean, and I really appreciate that in a romance novel.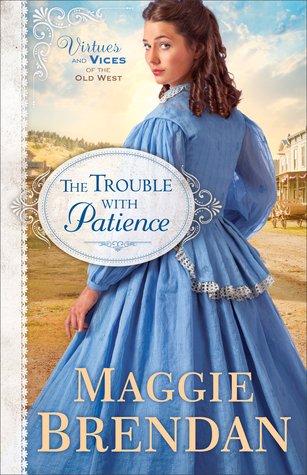 Title:
The Trouble With Patience
Author: Maggie Brendan
Publisher: Fleming H. Revell Company
Published: February 2015
ISBN: 0800722647
Source: I received an eCopy from NetGalley in exchange for a review.