Book Description:
For years Charlotte Withersby has worked as an assistant to her father, an eminent English botanist. As she approaches the old age of twenty-four, her father pushes her out into society, swayed by an uncle who believes God's only two roles for women are marriage and motherhood. When one of the Withersbys' colonial correspondents, Edward Trimble, returns to England, he's drafted as the new assistant so Charlotte is free to marry. This suits Edward's plans quite well, since the last thing he wants to do is reunite with the family he is ashamed to call his own.

Though Edward proves himself vexingly capable on the job, Charlotte won't surrender the job without a fight, and schemes with her best friend to regain her position. Perhaps if a proposal seems imminent, Charlotte's father will see his error and ask her to return. Charlotte tries to make headway in her town's social life, but reveals herself to be unaware of all the intricacies of polite society. Though Edward pitches in, tutoring her in society's expectations, she just seems to make things worse. And the more she comes to know of her father's assistant, the more trouble she has imagining life without him. Caught in a trap of her own making and seeing the hopelessness of her prospects, will Charlotte get to keep her work or will she have to cede her heart?
Book Review:
I like awkward heroines :) That is probably just because I can relate to the social awkwardness that they go through. Charlotte, while brilliant, was socially awkward, but I loved that she didn't realize that. She didn't care and had other "more important" matters to deal with, but she still tried. I think that was my favorite thing about her character. She didn't just go halfway with anything. She really tried to understand and figure things out.
Edward was great. Easy going and highly capable, it was obvious from his mannerisms and knowledge that something was going on with him. However, I was surprised, not by who he was, but by what happened. Wasn't expecting that, and I loved that I was a little surprised.
While I liked the secondary characters, sometimes I felt like they were a bit much. Two men really propose to Charlotte, and neither really wants to? Is that weird? I felt it was a little weird.
While I did laugh, and got to a point where I didn't want to put the book down because I got "to the good part", that part was very much near the end, and I felt like parts of this book dragged a bit. Other reviewers said this was caused by all the botany talk. That may or may not be the case. I didn't get an overwhelming feeling that there was just too much detail in that respect, but the story was slow in the beginning.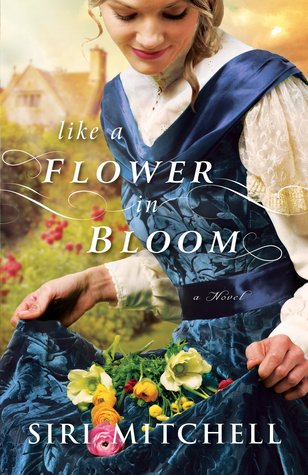 Title:
Like a Flower in Bloom
Authors: Siri Mitchell
Publisher: Bethany House
Published: January 2015
ASIN: 0764210378
Source: I received a copy from Bethany House in exchange for a review.